Featured News
Playstation Network update urgente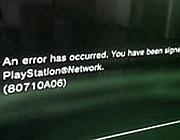 Sony fa sapere in un comunicato che il servizio PSN Network e' stato colpito da un duro attacco informatico. Si stanno ancora cercando le cause e i responsabili di tutto questo.
Pare che nell'attacco sia sono state rubate migliaia – se non milioni – di informazioni personali quali email, carte di credito, id utente e altri dati personali. Sony non chiedera' mai a nessun utente via email dati come numeri di carta di credito o altro, dunque fate attenzione in caso vi arrivassero email con queste richieste (phishing). Ovviamente il primo consiglio una volta tornato online il network e' di modificare i vostri dati personali e di controllare i resoconti bancari per movimenti sospetti. E' sempre consigliato l'utilizzo di carte prepagate per effettuare acquisti online di questo tipo, per evitare di mettere a repentaglio un ammontare elevato di denaro.
Di seguito il comunicato ufficiale in lingua inglese:
Valued PlayStation Network/riocity Customer,

We have discovered that between April 17 and April 19, 2011, certain PlayStation Network and Qriocity service user account information was compromised in connection with an illegal and unauthorized intrusion into our network. In response to this intrusion, we have:

1) Temporarily turned off PlayStation Network and Qriocity services;

2) Engaged an outside, recognized security firm to conduct a full and complete investigation into what happened; and

3) Quickly taken steps to enhance security and strengthen our network infrastructure by re-building our system to provide you with greater protection of your personal information.

We greatly appreciate your patience, understanding and goodwill as we do whatever it takes to resolve these issues as quickly and efficiently as practicable.

Although we are still investigating the details of this incident, we believe that an unauthorized person has obtained the following information that you provided: name, address (city, state/province, zip or postal code), country, email address, birthdate, PlayStation Network/Qriocity passwords and login, and handle/PSN online ID. It is also possible that your profile data, including purchase history and billing address (city, state, zip), and your PlayStation Network/Qriocity password security answers may have been obtained. If you have authorized a sub-account for your dependent, the same data with respect to your dependent may have been obtained. While there is no evidence that credit card data was taken at this time, we cannot rule out the possibility. If you have provided your credit card data through PlayStation Network or Qriocity, to be on the safe side we are advising you that your credit card number (excluding security code) and expiration date may also have been obtained.

For your security, we encourage you to be especially aware of email, telephone, and postal mail scams that ask for personal or sensitive information. Sony will not contact you in any way, including by email, asking for your credit card number, social security, tax identification or similar number or other personally identifiable information. If you are asked for this information, you can be confident Sony is not the entity asking. When the PlayStation Network and Qriocity services are fully restored, we strongly recommend that you log on and change your password. Additionally, if you use your PlayStation Network or Qriocity user name or password for other unrelated services or accounts, we strongly recommend that you change them, as well.

To protect against possible identity theft or other financial loss, we encourage you to remain vigilant to review your account statements and to monitor your credit or similar types of reports.

We thank you for your patience as we complete our investigation of this incident, and we regret any inconvenience. Our teams are working around the clock on this, and services will be restored as soon as possible. Sony takes information protection very seriously and will continue to work to ensure that additional measures are taken to protect personally identifiable information. Providing quality and secure entertainment services to our customers is our utmost priority. Please check www.eu.playstation.com/psnoutage should you have any additional questions.

Sincerely,

Sony Network Entertainment and Sony Computer Entertainment Teams
Sony Network Entertainment Europe Limited (formerly known as PlayStation Network Europe Limited) is a subsidiary of Sony Computer Entertainment Europe Limited the data controller for PlayStation Network/Qriocity personal data.